The Perfect Refuge from Big City Life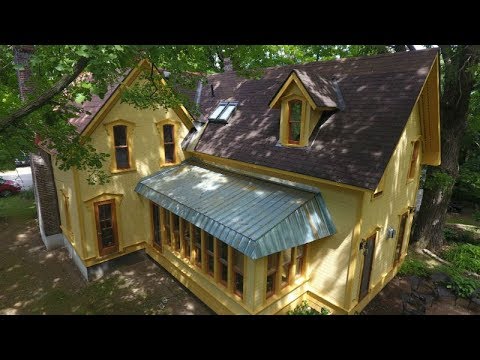 +8

Bedrooms (#)

3 bedrooms

Bathrooms (#)

2 bathrooms

Size (sqft)

1,800
BMO Mortgage Offer
The above message is from an independent, third-party provider and Kijiji is not responsible for its products or services.
Description
OPEN HOUSE – Sunday 14 October, 2018 from 2:00 to 4:00 PM – WELCOME – Call Alana 613-299-7200
Stressed out with the big city rat race? Chill out and breathe in the fresh country air in your new home right in the Village of Merrickville. It's rare that a beautiful & special property like this becomes available in this location. It's only 45 minutes from Canada's capital city of Ottawa, and a stone's throw from the historic Rideau Canal.
People driving or walking by can't help but slow down and admire how it's golden colour glows through the trees, often taking photos and occasionally knocking on the door to inquire and comment. "Where are you moving to? Too bad! It's really gorgeous. It will sell fast."
This home has an abundance of both historic and modern character with a beautiful woodland and circular gardens full of wild and perennial blooms, and local amenities galore – an easy walk to bank, post office, medical center, restaurants & bars, grocery store, gas station, yes – even chip wagons for quick cheater meals, ice cream stores & bakeries, entertainment and theatre halls, churches, parks & beaches along the Rideau Canal, jogging tracks and ski trails, fishing, kayaking, cruising, artists, parades & fairs, music bands & jazz festivals, our own town crier, a ghost or two from the past lurking in the woolen mill ruins, and occasionally a shy deer, a hopping rabbit, a lean hungry fox, and chipmunks, squirrels and birds of every sort – all scampering about in the back woods or darting across the lawn in pursuit or escape, drinking and splashing in the spurting fountain or bird bath, and innocently chomping on the tenderer parts of carefully groomed plants – yikes! Have I forgotten anything? You name it – it's all here.
But, it's not the same frantic noise and intensity as in the big city. It's more personal, and friendly, neighbours lending a helping hand with snow shoveling or each others challenging projects. It's much calmer and closer to nature, with the odd colorful toot and bang from diesel engines & Christmas trains, boats alternately rising and falling through the canal locks and steaming up the Rideau River just a spit away, from spectacular fireworks displays, and, of course, from ranting, yet dedicated, politicians glad-handing about and steering the village ever forward.
Merrickville is sure the place to live, and 136 Rideau is the home here to love. Come and see it for yourself.
There is a surprise in every corner of this 1800 square foot deceivingly small house – 3 good size bedrooms (vaulted/beamed master) and 2 full modern bathrooms (large deep oval Jacuzzi tub in the master, large shower in the other) in separate upstairs living spaces, a large century living room with original floor, massive red brick wood burning fireplace and built-in heritage glass cupboard, open family/dining/sun room with a cozy propane stove and beautiful pine floor, efficient and welcoming kitchen with cupboards galore at the front door, and utility (upgraded forced air furnace & new water heater), laundry, workshop/recreation and the makings of another bedroom and ensuite full bathroom with shower – all in the full height 900 square foot basement. There's an abundance of natural light coming in from the home's 35 arched windows, 3 vaulted dormers and 7 outside glass paneled French doors.
But that's just the start – you have to be here to take in the awesome character and quality of workmanship that abounds throughout – solid pine interior doors (one French), heritage mouldings and antique door hardware everywhere. Interior/exterior lighting is 100% LED.
The bones of this home are solid and over designed and are not from your ordinary lumber store. In the original front part of the house, living room floor joists are bare round logs, and upstairs walls are partially studded from smaller tree trunks and repurposed barn beams, posts and steel pins – … 'built in 1888 by Fred S. McRea' as inscribed inside the living room wall. In the newer part of the house at the back, floors are cantilevered to 25 feet with full 2 x 14 inch joists from British Columbia redwood trees, rescued from demolished wartime buildings in Ottawa, and wall studs are 4 x 6 inch oak posts reclaimed from the road bed of a former Merrickville swinging bridge. The original well-kept 130 year old tin roof of patterned panels proudly echoes every drop of falling rain. Newer roofs are double-clad with pine boards from a Portland saw mill and thick plywood sheathing, and are totally sealed with ice-guard wrap beneath asphalt shingles. All three newer 1979 chimneys are Victorian design in period red brick and have been recently re-flashed or repaired, and re-caulked – all ready for another winter.
The layout of this home suggests a variety of possible living scenarios. Smaller families with young children might reside in the front bedrooms, leaving the back bedroom as an office or guest suite. Alternatively, families with older children might use the back bedroom as a master with the children at the front. Larger families could be accommodated by finishing the basement ensuite as a fourth bedroom – with appropriate ment of the window for safe egress. Those who wish to use the home for a B&B could reside on one side and host their guests on the other – each with their own entrance, main floor lounge and private (future) deck, both sharing the common kitchen.
The house is completely move-in ready, yet has a number of intriguing avenues for your dream projects. There are lots of ways to realize your personal vision and design preferences to make the house more your own home. The doors are already there – imagine where they will lead with you at the helm!
Come and see.
257 visits
Sponsored Advertisements